I went to bed at like 10:15 last night, and I guess stuff started happening soon after? [citation: Reuters]

Checking the Internet over breakfast this morning, Davis Square LiveJournal informed me that the MBTA was shut down, and I thought, "Okay, I wasn't planning on biking to work this morning, but I will," and then Gita and Ian posted on facebook about Cambridge etc. being shut down -- at which point I actually checked my work email. (Spoiler alert: campus is shut down today, as is all of Harvard.)

Watertown's on lockdown, as are all the immediately adjacent cities/towns (Cambridge, Allston-Brighton, Newton, Waltham, Belmont [WGBH], plus Brookline [WHDH] and then hey, they extended it to the entire city of Boston -- Allston-Brighton are technically "neighborhoods" of Boston, rather than their own cities/towns). Somerville's in between me and Cambridge, but still, disinclined to leave the house until there's an all-clear...

I felt like the Onion was exaggerating a little when I read this earlier this week, but...

knowledge



* * *




For months I've been drafting LJ update posts and not finishing them, but as many of you know, there were explosions near the finish line of the Boston Marathon this afternoon, so continued radio silence seemed inappropriate.

I'm at work in Cambridge (no, the entire metro area does not get Marathon Monday off) and at 3:07 and 3:08pm, 2 of my friends Tweeted -- "Oh shit. Boston twitterverse, please be okay DDDD:" and "FUCK FUCK FUCK. Boston people please check in? Oh my god." I was confused, and GoogleNews'ing "Boston" just got me Boston Marathon race winners etc. People quickly responded to my confusion, and my Twitter feed started filling up.

I am my mother's marshmallow daughter, but I'm also often a misanthropic sociopath, so I was a little surprised that I felt rocked and sometimes even teary reading some of the stuff.

7 sparks of | knowledge



* * *



| | |
| --- | --- |
| Date: | 01-03-2013 02:25pm |
| Subject: | YOU GUYS |
| Security: | Public |
So, remember how I read some really awesome Darcy Lewis fic and then didn't wanna ruin my streak? I read a bunch of mediocre fic near the end of Break (and some good fic, don't get me wrong) and then
reflectedeve mentioned

thingswithwings (in an unrelated context) and I read the comments on this ridiculous entry and Aria wrote #TeamJanet and dude, I don't even know anything about Janet van Dyne (aka, the Wasp), but Darcy is awesome and apparently Janet is awesome and it is a fic that is all about women and women being awesome!
knowledge
* * *
Tues. Jan. 1, 2013

bff Shared this on my fb Timeline, commenting "Relevant to ALL THE THINGS (incarnation, that which Christ has not assumed...)":
Dear Human: You've got it all wrong. You didn't come here to master unconditional love. That is where you came from and where you'll return. You came here to learn personal love. Universal love. Messy love. Sweaty love. Crazy love. Broken love. Whole love. Infused with divinity. Lived through the grace of stumbling. Demonstrated through the beauty of… messing up. Often. You didn't come here to be perfect. You already are. You came here to be gorgeously human. Flawed and fabulous. And then to rise again into remembering.
Googling adds:
But unconditional love? Stop telling that story.

Love in truth doesn't need any adjectives.
It doesn't require modifiers.
It doesn't require the condition of perfection.

It only asks you to show up.
And do your best.
That you stay present and feel fully.
That you shine and fly and laugh and cry and hurt and heal and fall and get back up and play and work and live and die as YOU.

It's enough.

It's Plenty.

-Courtney A. Walsh
***



"Joy Sadhana is a daily practice in the observation of joy."
-
mylittleredgirl [more info]
YHWH God said to Moses, "Tell Aaron and Aaron's heirs: This is how you will bless the Israelites. Say to them,
'May YHWH bless you and keep you!
May YHWH's face shine upon you, and be gracious to you!
May YHWH look kindly upon you, and give you peace!'
"Thus will they invoke my Name over the Israelites, and then I myself will bless them!"
-Numbers 6:22-27, The Inclusive Bible, alt.

RCL, Year C: January 1 -- Holy Name of Jesus (Mary, Mother of God)
Numbers 6:22-27
The Aaronic blessing
(

joy sadhanaCollapse

)

1 spark of | knowledge



* * *




Mon. Dec. 31, 2012
Take pen in hand. Let God write you a love letter, a warning, a birth announcement.

-from Molly's Advent calendar ["Advent and Christmas 2012: Incarnation"]
I didn't leave the house today, and it is unfortunately true that snow accumulation disincentives me from biking, but seeing the snow in the driveway from the kitchen window is a nice winter thing.

At Coffee Hour on Sunday, Lisa C. mentioned missing book study, and I said Bobby had done lectio divina before Sunday morning service during Advent and we always do a Wednesday night Lenten thing, so we're unlikely to try to fit anything in between now and Lent, since that starts in late February/early March, though I didn't know offhand when exactly Lent starts this year. I looked it up while on the phone with Ari tonight and wow, Ash Wednesday is in like a month (Feb. 13).

***



"Joy Sadhana is a daily practice in the observation of joy."
-
mylittleredgirl [more info]
12Again Jesus spoke to them, saying, "I am the light of the world. Whoever follows me will never be in darkness but will have the light of life."

13Then the Pharisees said to Jesus, "You are testifying on your own behalf; your testimony is not valid."

14Jesus answered, "Even if I testify on my own behalf, my testimony is valid because I know where I have come from and where I am going, but you do not know where I come from or where I am going. 15You judge by human standards; I judge no one. 16Yet even if I do judge, my judgment is valid; for it is not I alone who judge, but I and the Divine Parent who sent me. 17In your law it is written that the testimony of two witnesses is valid. 18I testify on my own behalf, and the Divine Parent who sent me testifies on my behalf."

19Then they said to Jesus, "Where is your Divine Parent?"

Jesus answered, "You know neither me nor my Divine Parent. If you knew me, you would know my Divine Parent also."

-John 8:12-19, NRSV, alt.

RCL: December 31, Year C
John 8:12-19
I am the light
(Though The Inclusive Bible notes: "John 7:53-8:11 is not fond in most of the manuscripts.")
(
joy sadhana
Collapse
)
knowledge
* * *
[LJ kept refusing to let the update go through last night, so, posting this morning.]

Sun. Dec. 30, 2012

As it turned out, the blacktop of College Ave. was well-cleared, so I actually could have biked to church -- avoiding the whole "walking in the street" issue as the sidewalks were only intermittently cleared until about midway into Tufts campus (though there weren't many vehicles on the road, so I didn't feel unsafe) -- but I opted not to turn around and get my bike (in part because I had just chatted with Joan across the street about the fact that I wasn't biking today -- apparently she sees me biking a lot ... and is glad I wear a helmet).

It was after sunset that I came home, but the sidewalks didn't feel too dangerous to me, so I probably could have biked home fine, too (and there was even, to my surprise, enough clearing for me to have parked my bike where I normally park it across the street from morning church).

***
Unison Prayer of Confession

God,

You are big open love that knows no boundaries
And that can be hard on us.
Honestly, it would be easier to keep track of You if You were a little smaller,
A little less mobile.

You are everywhere,
But that includes so many places that we'd rather not be and we'd prefer that
You kept away from them too.
When you go there, it's hard for us to follow.

You are a wide-open welcome,
But we'd be more comfortable if you could be a little more selective -- just to keep things simple.
It's just a tough job, working a room as big as Yours, and it can make us feel small and lost.

You sent Jesus to us to help sort things out.
If we get confused, he said, just love one another.
Really, we'd like to know, what's so simple about that?

God, we can get lost in your big open love.
And not know how to find You.
Help us to stop trying to make You smaller so that our faith might feel bigger.
Be with us as we follow you into a world without walls.
***



"Joy Sadhana is a daily practice in the observation of joy."
-
mylittleredgirl [more info]
After three days, Mary and Joseph found Jesus in the Temple, sitting among the teachers, listening to them and asking them questions. And all who heard Jesus were amazed at Jesus' answers and understanding.
-Luke 2:46-47 (NRSV, alt.)
(

joy sadhanaCollapse

)

1 spark of | knowledge



* * *




Sat. Dec. 29, 2012

Hey, Shoshana, it snowed! in December! :)

Also, you were right -- I finished Glory Season this morning. (Having this much free time is weird. I feel like I should have stocked up on library books -- though I do own fiction I haven't read, and I only have a few days of vacation left.)

***



"Joy Sadhana is a daily practice in the observation of joy."
-
mylittleredgirl [more info]
5 Thus says YHWH,
who formed me in the womb to be God's Servant,
who destined me to bring back the children of Jacob
and gather again the people of Israel:
6 "It is not enough for you to do my bidding,
to restore the tribes of Jacob, of Leah, Rachel, Bilhah, and Zilpah,
and bring back the survivors of Israel;
I will make you the light of nations,
so that my salvation may reach to the ends of the earth."

7 Thus says YHWH,
the Redeenmer of Israel, the Holy One,
to the one deeply despised,
the one abhorred by nations,
the one enslaved by despots:
"Rulers will rise when you walk in the room
and court officials will pay homage
because of YHWH, who is faithful,
because of the Holy One of Israel, who chose you."
8 Thus says YHWH:
"At the time of my favor I will answer you,
on the day of salvation I will help you.
I will keep you,
and appoint you to be a covenant people.
I will restore the land
and assign you the properties that have lain waste.
9 I will say to the prisoners, "Come out!"
and to those who are in darkness, "Show yourselves!"
Congested roadways will become
places where they can safely graze,
and barren heights will become
lush pastureland for them,
10 They will never hunger or thirst,
and scorching wind and sun will never plague them;
for the One who has compassion on them
will lead and guide them to springs of water.
11 I will make roads through all the mountains,
and my highways will be raised up,
12 because they are on their way from afar,
some from the north or the west,
others from the land of Aswan.
13 Shout for joy, you heavens! Exult, you earth!
You mountains, break into happy cries!
For YHWH consoles the people
and takes pity on those who are afflicted.
14 But Zion said,
'YHWH has abandoned me,
Adonai has forgotten me.'
15 Does a mother forget her baby at the breast,
or fail to cherish the child of her womb?
Yet even if these forget,
I will never forget you.

(Isaiah 49:5-15, The Inclusive Bible, alt.)
My Revised Common Lectionary Daily Readings book says one of the assigned readings for December 29 [edit: I was accidentally looking in Year B rather than Year C -- but I like this reading better anyway] is:
Isaiah 49:5-15
God like a nursing mother
+

when love comes to town posted:
Reflections on the holy family...

Here are my worship notes for this coming Sunday, December 30th 2012 on the Holy Family. [...]
Introduction
In some of the high church traditions of Christianity, this Sunday is known as the Feast of the Holy Family: a quiet and gentle time offered to us for the consideration of family life from the perspective of Jesus, Mary and Joseph.
[NB: I have some answers to "Why do you think worshipping as a family is important? If dad - or mom or one partner - doesn't go, what does that teach our children?" which are perhaps not exactly what he's looking for.]




(

joy sadhanaCollapse

)

5 sparks of | knowledge



* * *




Fri. Dec. 28, 2012

In continuing comments on my I will now officially stop wincing at people saying "Merry Christmas" (until Advent 2013). fb post
Keith: Happy Lent!
[Harold Likes this.]

Keith: Or, perhaps as the Starks would say: "Lent is coming"
[You Like this.]
In other news, I am currently in a period of mixed feelings about Christmas (carols), identifying as a Christian (for me personally -- I'm not saying it's a bad self-identity for anyone else), etc., but: "Now that the mall has stopped playing them, the church can start singing them."

***

I slept in this morning but not as much as I'd expected to given how late I was up last night (Housemate was digging through the recording of the Project for Awesome livestream for the "Hank's face" portion, and I got sucked in).

I actually had energy/motivation to go out and deal with shopping stuff. My hair was still damp, so I walked to Davis rather than biking (which also enabled me to return my library book) 'cause a vanity, I has it.



(

blah blah, shoppingCollapse

)

I was starting to fade, so I headed out and texted Batshua (who I knew was in the Davis Square area this afternoon), and we hung out.

***



"Joy Sadhana is a daily practice in the observation of joy."
-
mylittleredgirl [more info]


And having been warned in a dream not to return to Herod, they left for their own country by another road. (Matthew 2:12) [Because it's Childermas.]



(

joy sadhanaCollapse

)

5 sparks of | knowledge



* * *




:)

knowledge



* * *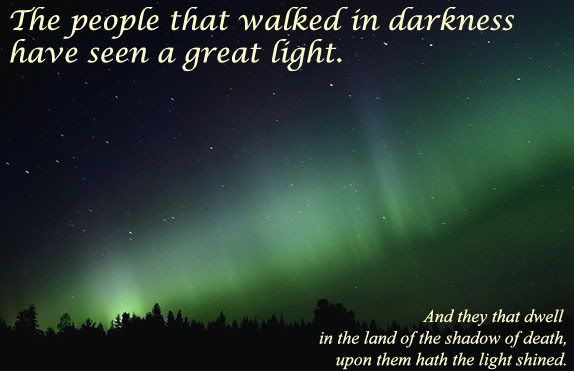 "Original English text taken from the Scriptures by Charles Jennens (1700-1773)."
-Program Text for Handel's Messiah, Handel and Haydn Society, 2007-2008 Season

Aria (Bass)
The people that walked in darkness have seen a great light. And they that dwell in the land of the shadow of death, upon them hath the light shined.
(Isaiah IX, 2) knowledge



* * *




Tues. Dec. 4, 2012
Get more vertical: hike, climb to a high place, pogo or trampoline. Lift your chin to the sky and remember whose you are.

-from Molly's Advent calendar ["Advent and Christmas 2012: Incarnation"]
The end of the workday yesterday, I was feeling kinda pissy, so coming home I kinda wanted to just bike for ages, but I also wanted to head home. (There isn't a nice bike path immediately near me, which is irritating -- my go-to is the Charles River, and while I remembered about the Minuteman Bike Path later, I'm not certain that would have been all that more convenient, requiring that I head into Arlington, since it was the whole "travel during rush hour after dark" that was disinclining me from heading out again -- well, that and various other factors.)

I sometimes flirt with the idea of doing an hour bike ride along the River in the morning and doing strength training after work (I seem to get through it much more quickly when I'm not doing it first thing in the morning) rather than alternating morning routines. Days like today when I have extra time after my strength training routine and no time-sensitive plans after work, this seems like a good idea -- but I usually have evening plans (and don't love the "gym during lunchbreak" thing, though certainly I do it at times when I agree to be in the office early).

At the gym this morning, a trainer was talking about classes she teaches e.g. a Cardio Chaos from 12:05-12:55 (Wednesdays), where you rotate 3 times through 10 stations (jumping jacks, kettlebell swing, etc.), which is sort of tempting. (I tend to forget that there are regular classes which I can attend for free as part of my gym membership since I'm not inherently interested in trainers/classes and thus only notice classes when there are fliers up for special pay-extra classes -- which I have done before.)

(On the theme of Molly's calendar today, one of these days I'll go rock wall climbing again.)

+

At the gym this morning, a trainer and her client were like, "Yay, Christmas music!" and my first response was "Unrelenting War on Advent!" and then I realized the song playing on the radio was "Let It Snow," which isn't actually a Christmas song. (In contrast, at Trader Joe's on Sunday I heard "Santa Claus Is Coming to Town" and cringed for multiple reasons.)

The trainer said that one year it was like the last day before Break and barely anyone was in and she had Christmas music on and someone asked her to turn it off and she did but she thought, "Grinch." I did not say, "Unrelenting War on Advent!"

She talked about some class she does where she plays holiday music and she really does try to be inclusive -- e.g., including the Chanukah song. (On reflection, I assume she means the Adam Sandler song -- which is trufax an amusing song, though, hi, I bet Jews have lots of songs they sing at Chanukah, because they're Jews and thus have lots of songs for every occasion.)

Somewhere in here the client commented that there aren't really a lot of "Advent-y" songs, and in my head I was like: THANK YOU for acknowledging that the season of Advent even exists! -- Advent songs aren't peppy upbeat radio songs (like "Let It Snow") because they're about expectant waiting, and also they're explicitly religious so they're not radio songs and ugh, we mostly don't play explicitly religious songs on the radio period for obvious reasons (though, okay, I have a Josh Groban album (no, I don't remember why -- possibly a gift from Singspiration) which has actualfax Jesus songs on it, so probably so does every other album, of which there are many since apparently everyone needs to make a Christmas/holiday album [Edit: And on that subject, on Thursday night, someone I know from high school posted to fb: "How was I completely unaware that Sufjan Stevens released another amazing 58 song, 5 album Christmas extravaganza? So ridiculously excited right now! http://www.npr.org/2012/11/19/165470944/first-listen-sufjan-stevens-silver-gold " /edit ] -- because people need 87 different renditions of the same few dozen songs for their parties? idek.), so when we talk about "Christmas music" we probably mostly mean either generic winter stuff (which varies in quality, and obviously elides the entire Southern Hemisphere) or songs about "Santa" -- which I want to burn in a fire because, ugh, lying to your children.

I am not trying to take away anyone's holiday joy* but seriously, if you want joyful music in the darkness, go for it. If you want it to explicitly reference the cold/snow/dark of the season, go for it. [I have in fact crowdsourced "songs celebrating winter."] Please don't subject me to crappy music, and please respect my desire to observe my personal spiritual/religious practice of expectant waiting during the ~4 weeks of Advent and then celebration during the 12 Days of Christmas (see also: Lent and Eastertide); see also: my desire to not have "Christmas" cantatas or carol sings during Advent.

[Later today, someone on facebook linked to: The Daily Show with John Stewart: "The War on Christmas: Friendly Fire Edition" (it gets good about 4 minutes in -- "Christmas is so big now it's eating other holidays").]

* posts I have read recently include:
When I was thinking about secular radio not playing Advent songs I remembered that on Sunday, @OccupyAdvent shared their #adventplaylist:Tweeted the YouTube playlist link.

I am debating including Ani DiFranco, "The Waiting Song" (or "Second Intermission" -- yes, I ran a lyrics search for "wait").

Edit: @OccupyAdvent added::Bob Franke, "Say Yes"

And after Wednesday's concert, possibly: Jenna Lindbo, "Angels on the Subway"

/edit

***



"Joy Sadhana is a daily practice in the observation of joy."
-
mylittleredgirl [more info]
Hail full of grace, the Lord is with you
Worlds without end depend on you
Bless'd is the one whom you bring forth
Whom no one else can bring
-"Say Yes," Bob Franke
(
joy sadhana
Collapse
)
knowledge
* * *
Sun. Dec. 2, 2012

Last night I read the d'var Torah that Velveteen Rabbi offered that morning at her shul on this week's parsha, "Vayishlach."

She talks about Jacob wrestling with the angel and says:
Having received a new name, Jacob bestows a new name: he names that place, that bend in the river, Peni'el, literally "the face of God," saying, "For I have seen God face-to-face, yet my life has been spared."
(which is really interesting in and of itself, given the multi-vocality of Scripture on seeing the face of God -- e.g., God to Moses in Exodus 33:20 "you cannot see my face; for no one shall see me and live.") and then talks about Jacob's encounter with Esau, where he says:
No, please, if I have truly found favor in your sight, take the offering from my hand; for to see your face is like seeing the face of God.
She closes with the bit from the Talmud about each individual human being being created in the image of God but each of us are unique -- unlike identical imperial coins each stamped with the mark of the secular leader.

This all seemed quite a lovely connection to Molly's "Light Gets In" Advent theme. But then she closes the post with her 70 Faces Torah poem on this parsha, which ends with such a downer:
For one impossible moment Jacob reached out.
To see your face, he said, is like seeing
the face of God: brother, it is so good!

But when Esau replied, let us journey together
from this day forward as we have never done
and I will proceed at your pace, Jacob demurred.

The children are frail, and the flocks:
you go on ahead, he said, and I will follow
but he did not follow.

Once Esau headed out toward Seir
Jacob went the other way, to Shechem, where
his sons would slaughter an entire village.

And again the possibility
of inhabiting a different kind of story
vanished into the unforgiving air.
***
The theme for this year's Advent is Light Gets In. No matter what walls we throw up, what boxes we climb in or that circumstances put us in—Light gets in. Light will have its way.

This Sunday in worship, I'll be preaching on the walls humans throw up that block out Christ's light. We'll begin building an actual wall in the sanctuary, that will grow each week up until Christmas Eve, when the Light will get in. Will you bring cardboard boxes to church anytime you show up, and leave them on the chancel, and help us duct-tape them together to build our Babel-wall up toward heaven and obscure the cross?

-Molly in This Week at First Church
To my mind, Advent is about the light slowly breaking in (we light first one candle and then a second, and so on), so I don't love this theme.

(The Meditation in the bulletin was Robert Frost's "Mending Wall," so of course I was trying to remember what mt said about that poem. Allie?)

+

Pre-service lectio divina happened in the Parlor, and as a result we could hear the pre-service choir rehearsal. I heard "Emmanuel, Expected Jesus," and fell into Advent.

...

To my surprise, 9am lectio divina was not just me and the facilitator (Bobby); Tom arrived before I did, and Leigh came a little late.

We did Luke 1:5-25.

I was struck by Gabriel's statement, "I stand in the presence of God."

(The second round, when I read, I was struck by the piece about Zechariah being overcome by fear -- because of Reasons. And the third round, nothing struck me.)

+

Before service, I picked up a hardcopy of Molly's Advent calendar.
December 2
First Sunday in Advent: Put on your sparkle cream. Glow.
+
Unison Prayer of Confession

Light-Bringer,

We offer you our repentance.
We replace holy days with holidays.
We hurry past opportunities to give the gifts of kindness and honesty.
We do not listen to angels in our dreams, forgive those dearest to us,
Or welcome into hearts and homes, the poor and the stranger.
If all sin is separation, forgive us for all the walls we throw up, and let your Light in.

-Maren Tirabassi, adapted
...

Molly preached on Jeremiah 33:14-16 -- and her Advent theme of walls and also touched on the theme of Recovery (it being a first Sunday of the month -- no, I had not realized we were continuing this theme after we'd been through the 12 Steps).

She opened with talking about Israel and Palestine, but also talked about other walls -- the Mexico/USA border, gated communities (Trayvon Martin), and other walls we erect. She talked about healthy boundaries -- "calm contact works better than walls."

She said that contrary to popular belief, prophets don't tell the future -- they tell the present.

She said, "our God is not a safe God," which of course reminded me of "Aslan is not a tame lion."

She said God "doesn't call us to safety but to radical love."

...

During Prayers of the People, Missy lifted up prayers "for all those who feel restricted by the gender binary." ♥

At Coffee Hour, Jonathan told me about Tufts' Hamlet the Hip Hopera, which Cate and I tragically missed out on in our attend ALL the Shakespeare.

FCS does a thing where you can pick a kid's name out of a hat and buy them a gift. Harold said that one of his friends at another church got a 10-year-old boy and she only daughters, so she asked what 10-year-old boys like. Harold's response: "When I was a ten-year-old boy, I liked Wonder Woman. Hope this helps." ♥ (And it's trufax. I mean, he also liked e.g. dinosaurs, but this makes it no less trufax.)

+

Jamie facilitated an Advent Devotional Workshop, which I attended.

I was starting to investigate the art supplies when the horde of kids who had been playing war or something all came in and decided to do art (well, Simon was like, "Guys, can't we go back to what we were doing before?" and got ignored by all the kids wrapped up in doing art, so he compromised by making pictures of e.g. ninjas) so I stepped back from the chaos and worked on poetry.

Sue D., to her husband, later: "I was looking for the kids, and I found a craft fair, so I sat down."

Having ~skipped class last week and the next two sessions being review for the final and me being so checked out, I had been undecided about whether I wanted to bother going to the remaining class sessions, and in the Parlor this afternoon I definitely felt like I wanted to go to Art Night.

...

Brandon asked if I'd seen Tongues United, apropos of World AIDS Day. I had not, but given that we barely acknowledged World AIDS Day at church (though in her sermon, Molly told a story she had recently learned of 25 years ago, when there was still so much fear and unknowing, this church volunteering to be the church to host a healing service) I loved that he brought it up.

He also talked about Merry Christmas, Mr. Lawrence (Christmas movie, what? see also: Batman Returns), The Avengers, and The Hobbit: An Unexpected Journey (which fandom has been expecting for 5 years).

***

I really liked the Call to Worship we used at CWM tonight:
[One] How shall we prepare God's house for the coming of the Promised One?
[Many] With fragrant branches of cedar, the tree of excellence and strength.
[One] How shall we prepare God's house for the Christ child?
[Many] With a stable and a manger where in the weeks to come, the mystery of the Advent story will be revealed and where the entire creation will welcome the Promised One.
[One] How shall we prepare God's house for Emmanuel, God with us?
[Many] With garlands of pine and fir, whose leaves are ever living, ever green -- symbols of our faith in the living God.
[One] How shall we prepare God's house for the prophet of Galilee?
[Many] With sprigs of holly and ivy, telling of Jesus' faithfulness, even unto death and resurrection.
[One] How shall we prepare our hearts for this revelation of God?
[Many] By hearing again the words of the prophets, the stories of the ancestors of Jesus, and the promises of God.
[One] For in the story of Jesus we see revealed the transforming power of God, and we are reminded anew of God's vision of wholeness, justice, and peace for all creation.
[Many] Thanks be to God!
...

Marla preached on Isaiah 11:1-9 and 1 Samuel 16:1-13. I was mostly meh, but she closed with talking about the fact that we ignore the parts of the Biblical stories that don't seem "proper" or "dignified" and inviting us to think about, if Jesus were to come as a baby a second time, what unexpected places that baby might show up in -- and her shocker suggestion was: born to a Wall Street executive (I thought of the Buddha).

***

At 8-something this morning, it was 32F and a predicted high of 59F. I wore my sparkly purple short-sleeve shirt, because when am I gonna get to wear short sleeves during Advent? Except I basically never took my hoodie off. (Though Jeff B. did ask me whether an email had gone out about wearing purple or if we just knew 'cause Advent. I said I'd worn purple for Advent because I do and it's not like one is required to match the paraments or anything.)

After I left morning church after 1pm, I went to Trader Joe's and it was hazy and still hoodie+gloves weather.

When I left evening church at 6:30 or whatever, it seemed to have rained recently (20% chance of precipitation, this morning's forecast said) and now, hours after sunset, it felt warmer than it had all day.

Weather, what is it?

***



"Joy Sadhana is a daily practice in the observation of joy."
-
mylittleredgirl [more info]
Hail full of grace, the Lord is with you
Worlds without end depend on you
Bless'd is the one whom you bring forth
Whom no one else can bring
-"Say Yes," Bob Franke
(

joy sadhanaCollapse

)

2 sparks of | knowledge



* * *




Sat. Dec. 1, 2012

As I was putting flannel sheets on my bed this morning, I remembered Michael saying yesterday that next week is predicted to be in the 50sF. On the other hand, we got a light coating of snow last night -- and there were flurries again this morning.

+

While I was on the phone this afternoon, our upstairs neighbors were vacuuming right above my bedroom, so I attempted moving to a different part of the house -- and someone was literally sawing wood in the driveway. "It's Loud Chores Day in Medford," said bff.

***



"Joy Sadhana is a daily practice in the observation of joy."
-
mylittleredgirl [more info]


Thus says God to these bones: "I will cause breath to enter you, and you shall live. I will lay sinews on you, and will cause flesh to come upon you, and cover you with skin, and put breath in you, and you shall live; and you shall know that I am God." (Ezekiel 37:5-6, NRSV, alt.)



(

Read more...Collapse

)

1 spark of | knowledge



* * *




A couple weeks ago,
unfitforsociety recced: "Here, Warm This Up For Me (This Heart of Mine Has Been Too Cold)" by sarcastic_fina
I don't love Johnny Storm or Darcy/Johnny (though the fic does a solid job of selling both), but OMG DARCY!!!

This didn't actually get me into the habit of reading fic, but then today
fox1013 posted "Darcy Lewis's Guide to Lists" and it's the same awesome Darcy! Fandom, I love you!

So then I actually clicked on the "Darcy Lewis" tag on A03 and the fic at the top of the list was: "A Light Into My Darkness" by Selenay
Same awesome Darcy! And the pairing totally worked for me here.

[NGL, I am now apprehensive to read any more fics lest I break my streak.]

2 sparks of | knowledge



* * *




Sunday, I decided that my joy sadhana verse for Advent would be this from the Bob Franke concert I went to on Friday:
Hail full of grace, the Lord is with you
Worlds without end depend on you
Bless'd is the one whom you bring forth
Whom no one else can bring
-"Say Yes," Bob Franke
and then Monday afternoon this came up on my GoogleReader:
The Angels of Advent are saying, "Do not be afraid" -- we bring good news of immigration reform.

And what does fear do to us?
Although I vaguely registered the post title ("Been There, Bordered That. So Why Are We Still So Afraid?") when I first glanced at it on my GoogleReader, but my eyes didn't actually register the "we bring good news of immigration reform" portion when I glanced at the screen, so my entire takeaway was the reminder that the angels of Advent tell us "Do not be afraid."

Yes, on reflection I remember that arguably one reason the angels routinely open with this declaration is that people were likely to be scared of the angels -- God often asks scary things of us, plus angels themselves are creatures of wind and fire
Seraphs were in attendance above G!d; each had six wings: with two they covered their faces, and with two they covered their feet, and with two they flew.
-Isaiah 6:2
Things I learned on Monday: "seraphim" literally means "burning ones."

BUT.

I still think the general message of, "Do not be afraid," is powerful and relevant. Or rather, "Feel the fear and do it anyway" (and now I can't find the Felix Baumgartner article I saw linked a while ago, alas). Insert DBT evangelism here or something. Which, yes, obvious caveats about legit danger &c.

I'm actually not interested in the framing of being not afraid of what God Wills for us -- "I know God won't give me more than I can handle. I just wish He didn't trust me so much." -- but rather the general idea of actively moving through our lives less caged in by fear. Breathing through the fear. Feeling the fear and doing it anyway. 1 spark of | knowledge



* * *




From today's This Week at First Church:
This year's Stewardship theme is Creating the Kingdom of Heaven. What does Heaven look like to you? Who is there, and what are they doing? What are you willing to give up, and give, so you can live in that Heaven, here and now?
As I said on facebook,
"Creating the Kingdom of Heaven."

I have SO MANY thoughts about this! Okay, they're more about the Radical Queer Church of My Heart than about e.g. economic justice, though there is some overlap -- like Megan Rohrer at the Transgender Religious Leaders Summit talked about oral history projects with queer (mostly trans) homeless youth.
Yeah, I spent one weekend at the 2012 Transcending Boundaries Conference and the next weekend at the 2012 Transgender Religious Leaders Summit and now I have a lot of energy to do educationy activisty type stuff. knowledge



* * *



| | |
| --- | --- |
| Date: | 09-22-2012 11:10pm |
| Subject: | 10:34:29 |
| Security: | Public |
A couple hours into bff phonecall today, I was thinking, "We were in the middle of talking when my phone died 6 hours in last week, but we've had lots of silences during phonecall thus far today -- maybe we wanna wrap soon?"

I forgot that all we need to talk forEVER is to wander into the wackiness of Christian theology on the Internet :)

At some point, she mentioned a Princess Bible she'd seen. I ran a GoodReads search and found that "princess bible" gets a lot of results -- including a board book whose WorldCat entry lists the 20 princesses (spoiler alert: not actual princesses -- though hey, we learned of the existence of Huldah) and another one that has 29. That one didn't display a full list, but one of the reviews mentioned the Shulamite woman. Both Ari and I were blanking on who that refers to (Canaanite woman who schools Jesus, Samaritan woman at the well...), so I Googled. [Irony, bff, the review actually says, "...The Shunammite Woman and her respect for Elisha" -- I was skimming and misread.]

I accidentally spelled it "shulamit woman" and the first hit I got was a site whose Google results pull text was: "The Shulamite Woman was the heroine of Song of Solomon and the epitome of real love for Right Man."

We, um, spent a lot of time on that website -- well, I spent a lot of time on that website and Ari spent a lot of time listening to me read aloud from it.

The Salvation FAQ includes the following list:
I am a Roman Catholic; am I saved?
I am a Jew; am I saved?
I am a Mormon; am I saved?
I am a Jehovah's Witness; am I saved?
I am a Seventh Day Adventist; am I saved?
Ari said she kept imagining "said no one ever" at the end of each of those sentences.

In contrast to: "Am I saved? says every Calvinist ever."

One of the FAQ answers mentioned "Unlimited atonement" and Ari said she thought that was part of TULIP and so I Googled and no, U is for "Unconditional election" -- and in fact Calvinists believe in "Limited atonement."

I went to the CalvinistCorner.com cite for Limited atonement, and all the Bible verses they cite, one COULD interpret to support limited atonement ... but why would one want to?
The Methodists have been apostate since John Wesley whose arguments with George Whitefield4 demonstrate that Wesley succumbed to Satan's appeal, "How could a God of love condemn anyone to Hades?" He lost sight of individual volition as the criterion for application of salvation to mankind. Translated into simple terms, "Why should anyone worry about salvation? That's God's problem."

[excerpt from the aforementioned Salvation FAQ]
3 sparks of | knowledge



* * *




As has become my custom, reposting this from Amy:
One of the big pieces of the ten days between Rosh Hashanah and Yom Kippur is that you reflect over the past year, and you attempt to (A) accept and forgive anything that has been done to you, and (B) apologize and ask forgiveness for anything you have done to others.

[...]

Anonymous is enabled, and all comments are screened. If I've done anything to hurt you this year, let me know. If there's anything you think I might still be upset over, let me know that too. I won't unscreen unless you specifically request I do [...] The goal isn't to start fresh- that's often not possible- but to acknowledge what has happened over this year (or any previous time, if you so choose) as an attempt to not have it happen again.

I promise to treat anything you say seriously and respectfully, and I will seriously be considering it over the next ten days.
Pr. Lisa closed service today with reading Mary Oliver's poem "The Summer Day" ... "what will you do with your one wild and precious life?" knowledge



* * *




Fri. Sept. 14, 2012

Having talked with Molly tonight, I wanted to put up a list of the books on theology+disability that people recommended when I crowdsourced on Sunday (thanks to those who signal-boosted and/or responded) since the prime takeaway from that conversation was a commitment to keep engaging with this issue.

* A Healing Homiletic: Preaching and Disability (Kathleen Black)
* This Abled Body: Rethinking Disabilities in Biblical Studies (ed. Hector Avalos).
* round-table discussion about disability & Biblical studies in Women in the Hebrew Bible (ed. Alice Bach).
* Spirit and the Politics of Disablement (Sharon V. Betcher)
* The Disabled God: Toward a Liberatory Theology of Disability (Nancy L. Eiesland)
* The Wounded Healer (Henri J.M. Nouwen)

I also went to my GoodReads to pull up the stuff I read 2-3 years ago (NB: not all of these texts explicitly deal with theology -- this is more to share some of the context that I have when I approach this issue):
* Disability and Christian Theology: Embodied Limits and Constructive Possibilities (Deborah Beth Creamer)
* Deaf Liberation Theology (Hannah Lewis)
* Theology Without Words: Theology in the Deaf Community (Wayne Morris)
* The Rejected Body: Feminist Philosophical Reflections on Disability (Susan Wendell)
* Bending Over Backwards: Disability, Dismodernism & Other Difficult Positions (Lennard J. Davis)
* Desiring Disability: Queer Theory Meets Disability Studies (GLQ: A Journal of Lesbian and Gay Studies #9.5)
* Crip Theory: Cultural Signs of Queerness and Disability (Robert McRuer)

knowledge



* * *




Tara Sophia Mohr sent an email yesterday, "Heartgifts for July." It includes:

* a video wherein she talks about the myth that we only have One Calling (~1:39, "Many things are gonna spark in you that feeling of: 'I feel Called to do this,' 'This work is mine to do,' 'This little piece of light is mine to bring into the world' -- because that's what Callings are, they're just particular ways of bringing light and love into the world, ways that get manifested through your personality, your unique circumstances, your gifts and talents. [...] Instead of asking yourself, 'What is my Calling?' [ask] 'What is calling you right now?' ");

* and this poem, "A Letter from Your Calling":
"Every calling is great when greatly pursued." ~Oliver Wendell Holmes

It's me. The one who keeps talking to you about that thing. That project. That possibility.

I know you think you couldn't be the one for the job, but honestly, if you weren't the one for the job, I wouldn't have come to you with it.

I wouldn't have come knocking at the door of your mind. I wouldn't have come into your dreams, into your imagination, into your heart.

I wouldn't have made it so compelling to think about me.

I wouldn't have planted in you the frustration with what is.

I wouldn't have planted in you the vision of what could be.

You say you want more meaning, more adventure, and to have a greater impact.

I'm offering you all of that, but you keep telling me I'm silly, unrealistic, too big, when here I am, ready to give you the greatest adventure of your life.

I don't take it personally, but I do weep about it.

I weep for the joy you are missing out on. I weep because you aren't getting to witness your immense strength and brilliance. I weep for what the world is missing out on too.

When I took this job, they told me much of it would be waiting. Waiting on you.

I want to make sure you know, I'm here, close as breath, waiting. I'm waiting for you to say yes.

We can do this. Together, we can do this thing.

It's true, part of my job is creating challenges and dark moments along the way—but only enough of them to teach you the most beautiful lessons you'll ever learn.

I need you. Your hands. Your heart. Your mind. Your circumstances. Your strengths. Your weaknesses. Your wounds. Your wit. Your tale.

I need you, just as you are.

Say yes?

Love,

Your Calling
2 sparks of | knowledge



* * *