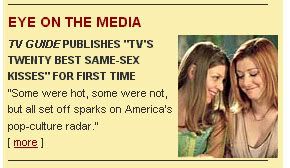 from glaad.org
The
link
requires that you be a TVGuide member, so for those who don't wanna register (and just for posterity) here's the article.
---
TV's 20 Best Same-Sex Kisses
by
Daniel Coleridge, Damian Holbrook and Ileane Rudolph
V-Day is upon us, kids, and it's time for romantic reminiscing. And while we're sure you'll adore
TV Guide
's fun-filled list of
TV's 20 Hottest Kisses of All Time
, we at TV Guide Online thought you'd like to double your pleasure with our very own Top 20 list of TV's most memorable same-sex kisses. Some were hot, some were not, but all set off sparks on America's pop-culture radar.
(
Collapse
)