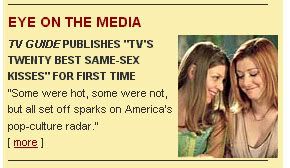 from glaad.org

The link requires that you be a TVGuide member, so for those who don't wanna register (and just for posterity) here's the article.


---


TV's 20 Best Same-Sex Kisses
by Daniel Coleridge, Damian Holbrook and Ileane Rudolph

V-Day is upon us, kids, and it's time for romantic reminiscing. And while we're sure you'll adore TV Guide's fun-filled list of TV's 20 Hottest Kisses of All Time, we at TV Guide Online thought you'd like to double your pleasure with our very own Top 20 list of TV's most memorable same-sex kisses. Some were hot, some were not, but all set off sparks on America's pop-culture radar.

1. Willow and Tara, Buffy the Vampire Slayer 2001
Wiccan witches Willow and Tara had been platonically chanting, lighting candles and holding hands to save the world — until the day Buffy's mom unexpectedly dies. That's when Tara takes the grieving Willow's head in her hands, kisses her forehead, then finally, tenderly and lingeringly lands one right on the lips. Covens of Buffy fans around the country sang hallelujah. "I told them, 'You guys will kiss and it will be when nobody's expecting it and nobody's looking for it and it will not be advertised,'" says creator Joss Whedon. "It's just going to happen when it's natural for the characters."

2. Jack and Doug, Dawson's Creek 2003
In Dawson's finale, the Capesiders flash-forward five years. The biggest surprise? Michelle Williams' Jen is dead and her child's being raised by her best friend Jack and his partner — Pacey's macho cop brother, Doug! Thus, Pacey's long-held suspicions are confirmed. And their kiss confirms Kerr Smith and Dylan Neal as TV's hottest male couple this side of Queer As Folk.

3. Ellen and Laura, Ellen 1997
Ending years of annoyingly asexual ambiguity, Ellen DeGeneres made history by coming out to an audience of 36.2 million. She also sealed her gay-icon status with a kiss for Billy Bob Thornton's ex, Laura Dern.

4. Bianca and Maggie, All My Children 2005
The first soap to create a front-burner lesbian character features Erica Kane's trauma-magnet daughter, Bianca, planting one on the sexually confused object of her affections, Maggie. Since their brave and impressive young portrayers, Eden Riegel and Elizabeth Hendrickson, both are exiting AMC at the end of this month, we'll soon see another daytime first: a happy ending.

5. Will and Jack, Will & Grace 2000
Enraged at NBC for editing a same-sex smooch outta one of its shows (imagine that!), Jack drags Will down to Today's studio at Rockefeller Center to stage a protest. When the guys wind up on camera while cajoling poor Al Roker, Will takes matters — and Jack's face — into his own hands, spontaneously giving viewers the man-on-man action they had been denied.

6. Abby and C.J., L.A. Law 1991
Think back before Ally McBeal lip-locked Ling Woo. We're talkin' even before the 1994 Roseanne episode where Mariel Hemingway's Sharon smooched Roseanne, who made a face and wiped her mouth just to satisfy ABC's more conservative viewers. Before all that, there was a taboo-shattering kiss between Abby Perkins and the bisexual C.J. Lamb, who were friends and colleagues at L.A. Law's high-powered firm. "I stood there for two seconds; [Amanda Donohoe] kissed me and I kissed her back," says Michele Greene (Abby). "It was just a blip." It was a controversial "blip" that NBC could barely handle at the time. But one that, nonetheless, opened the floodgates to all those sapphic smooches that make TV's sweeps periods so much fun!

7. Beecher and Keller, Oz 1998-2000
Dysfunctional love behind bars proves scary and sexy on HBO's prison drama, where Beecher (Lee Tergesen) first looked into Keller's eyes and declared his amour in the laundry room. (Soon after, an ungrateful Keller broke his lovelorn cellmate's arms and legs.) Beecher finally forgives his bad boy BF in a smoldering New Year's Eve smooch. In another episode, Beecher tenderly kisses his lover's wounded, sweaty chest after a brawl. "When two straight guys kiss, it's so hot," says Christopher Meloni (Keller). Um, the actors may've been straight, but their jailbird alter egos were just straight to bed. OK?

8. Various Friends, 1994 and 2001
Could they have been any gayer? Plus, Joey and Chandler lock lips on New Year's Eve '94, after the whole gang ends up single and alone at midnight (leading to years of homoerotic suspicions). Best of all, Rachel wows her closeted sorority sister (Winona Ryder) with a reminder of their college hookup, inspiring Phoebe to steal a peck from Rach, too! Pheebs' response? "Eh, I've had better." Hey, Ms. Buffay, don't complain: Ross' ex Carol didn't even get to kiss the bride at her 1996 wedding to Susan.

9. Emmett and Drew, Queer As Folk 2005
Just imagine if New England Patriots hunk Tom Brady were secretly into dudes. That should help clarify why the usually out-and-proud Emmett Honeycutt (Peter Paige) would settle for no-tell motel trysts with quarterback Drew Boyd. (Like Brady, Universal Soldier star Matt Battaglia puts the "yum" in daaaaay-yum.) Though their meetings start out as impersonal sex, Emmett eventually gets under Drew's skin, inspiring the closeted Adonis to plant an unforgettably intimate kiss on Em's lips. Wow.

10. Shane and Sandy, The L Word 2004
When androgynous sexpot Shane slouches into a room, pheromones are on high alert. This hot hairdresser found her sizzling match in Sandy, the randy wife of an L.A. film industry honcho. Shane and stiletto-heeled Sandy lock lips (and other anatomical parts) on a beauty-salon recliner that surely never saw such cutting-edge action before. "It was my favorite kiss," declares Katherine Moennig (Shane), who's smooched a peck of pretty women on Showtime's lesbian drama.

11. Shane and Carmen, The L Word 2005
Latina DJ Carmen and Shane make beautiful music in a sound room, leading Carmen to think she's found her soul mate. She doesn't know Shane's a love-'em-and- leave-'em type of gal who likes her love songs short and spicy. It wasn't hard to act turned on, says Sarah Shahi (Carmen). "Kate [Moennig] wears [DuWop] Lip Venom lip gloss. When you kiss her, your lips start tingling. That way when I look at her, I don't have to do much." Hmm... we'll have to pick up a tube of that stuff!

12. Alice and Dana, The L Word 2004
Is it crossing the line when two best friends kiss? Well, when they kiss in the up-against-the-wall, can't-catch-your-breath way that adorably klutzy pals Alice and Dana do after denying their attraction — oh yeah. To make matters worse, tennis pro Dana — who's usually a good girl — is engaged to the manic Tonya. "It wasn't a friendly kiss, there was definitely something there," says Erin Daniels (Dana). "There's so much behind it."

13. Jesse and Katie, Once and Again 2002
Two 14-year-old budding sweethearts share their first tentative kiss in Jesse's bedroom, watering up many a cynical eye. Evan Rachel Wood (Jesse) — who was only 14 herself at the time — said: "Half the people that I told I had to have an on-screen kiss with a girl asked, 'Was it weird?' I was like, the only difference was we were both wearing lip gloss. It's just really beautiful and innocent." Of course, that Katie was played by future O.C. star Mischa Barton didn't hurt the tune-in rate.

14. Marissa and Alex, The O.C. 2005
Mischa Barton strikes again! As the chronically unlucky-in-love Marissa Cooper, she's tanked with Ryan and sent hottie lawnboy D.J. running for the hills. Hell, even Seth is happy to keep it as "just friends." Which probably explains why, last Thursday night, this boozy afterschool special in the making hit the beach for some macking on bad-girl club manager Alex (Olivia Wilde). Somehow, we always thought it would be Summer who'd get her hot and bothered.

15. Billie and Sara, Fastlane 2003
Perhaps in an effort to make up for their Melrose snip (see No. 20), Fox goes gay with an episode of the slick cops-and-cars series built around Tiffani Thiessen's bombshell Billie going undercover to catch a sapphic cat burglar played by Jamie Pressly. Since both women are hot enough to melt the polar ice caps, it only makes sense that their hot-tub dip would stir up more than a little steam.

16. Rory and Paris, Gilmore Girls 2004
On spring break in Florida, Paris kisses a stunned Rory for half a sec, eager to attract notice from the throng of party boys around them. You know, sort of like Madonna and Britney's bid for attention at the 2003 MTV VMAs, only less desperate and slutty. "For us, it was a playful little joke," says creator Amy Sherman-Palladino. "There's no tongue, there's no groping. It's weird that [the media] would pick up on an innocent kiss between two girls like there's something dirty about it. It wouldn't be dirty if it was two girls who were romantically involved!"

17. Jack and Ethan, Dawson's Creek 2000
Yes, it's Jack McPhee again. Why? 'Cause he pulled off the biggest gay TV event since Ellen came out. In its touching third-season finale, aptly entitled "True Love," Kerr Smith's Jack pressed lips with Ethan (Adam Kauffman). And life on the Creek was never the same.

18. Julia and Perry, Party of Five 2004
Long before Neve Campbell's big-screen sapphic turns in Wild Things and When Will I Be Loved, her Julia Salinger put the moves on her college professor, Perry (Olivia D'Abo). Their kiss proves fleeting, though, since Ms. Salinger is out on a date with a dude in the following episode. C'est la vie.

19. Anna and Peyton, One Tree Hill 2005
In one episode, Hilarie Burton's Peyton sports a tight tee with the word "Dyke" spray-painted across her ample chest. In the next, she receives a hot kiss from Anna (Daniella Alonso). Since practically every chick on the teen sudser has kissed Chad Michael Murray and his TV bro James Lafferty, we guess they might as well start smoochin' each other!

20. Nancy and Marla, Roseanne 1992
Speaking of Roseanne, what about when Sandra Bernhard's Nancy kissed Morgan Fairchild's Marla? "We actually never kissed," Bernhard says. "ABC wouldn't let us kiss. As I'm inches away from Morgan Fairchild's mouth, they cut. I'm kind of glad about that, too. I like Morgan. She's a nice lady, I just didn't feel like kissing her. There's certain people you just can't get it up for." Ouch!

21. Matt and Rob, Melrose Place 1994
We couldn't even include this kiss in our top 20 list 'cause it still peeves us too damn much! The lipsmack heard 'round the watercooler was barely an affair to remember, since Fox caved in to sponsors' prudish protests, cutting the planned buss between Matt (Desperate Housewives' Doug Savant) and Billy's best man, Rob (Ty Miller) in favor of a reaction shot from a slack-jawed Andrew Shue. To this day, we have no idea if Billy was supposed to be shocked at spotting his bud kissing a dude — or just staring dumbly into thin air like he always did.